Welcome to
East Pines Animal Clinic
Your Veterinarian in Boonville, IN
Call us at 812-897-0810
We are now operating as normal!
Please come in when you arrive for your appointment.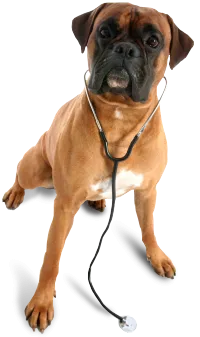 East Pines Animal Clinic is a full-service veterinary medical facility, located in Boonville, IN. The professional and courteous staff at East Pines Animal Clinic seeks to provide the best possible medical care, surgical care and dental care for their highly-valued patients.
The clinic was first opened in 1975 by Dr. Benjamin Mauck and Dr. Jeff Mauck. At that time, they treated both large and small animals. They practiced together until 1988, when Dr. Ben retired. Dr. Ben passed away on Jan. 15, 2000. In 1998, Dr. Traci Scamahorn joined East Pines. We remodeled in 2000-2001, adding on to the clinic. Since 2002, we only practice small animal medicine and surgery. In 2008, Dr. Sara Burns, a boarded surgeon and Dr. Mauck's daughter, came back to Boonville and joined East Pines also. Following that, in 2009, Dr. Julie Weber joined East Pines. Then in 2016 Dr. Breanna Brash, a boarded ophthalmologist, joined the team, and in 2020 Dr. Tara Foldenauer joined as the newest addition.
We are committed to promoting responsible pet ownership, preventative health care and health-related educational opportunities for our clients. East Pines Animal Clinic strives to offer excellence in veterinary care to Boonville, IN and surrounding areas.
Please take a moment to contact us today, to learn more about our veterinary practice and to find out more information about how East Pines Animal Clinic can serve the needs of you and your cherished pet.
News
Has your dog been diagnosed with a torn cruciate ligament? One surgical option is the Tibial Plateau Leveling Osteotomy or TPLO. You can go to www.TPLOanswers.com for more information about this surgery.
At East Pines Animal Clinic, we treat your pets like the valued family members they are.

Boonville Veterinarian | East Pines Animal Clinic | 812-897-0810
466 W. SR 62
Boonville, IN 47601